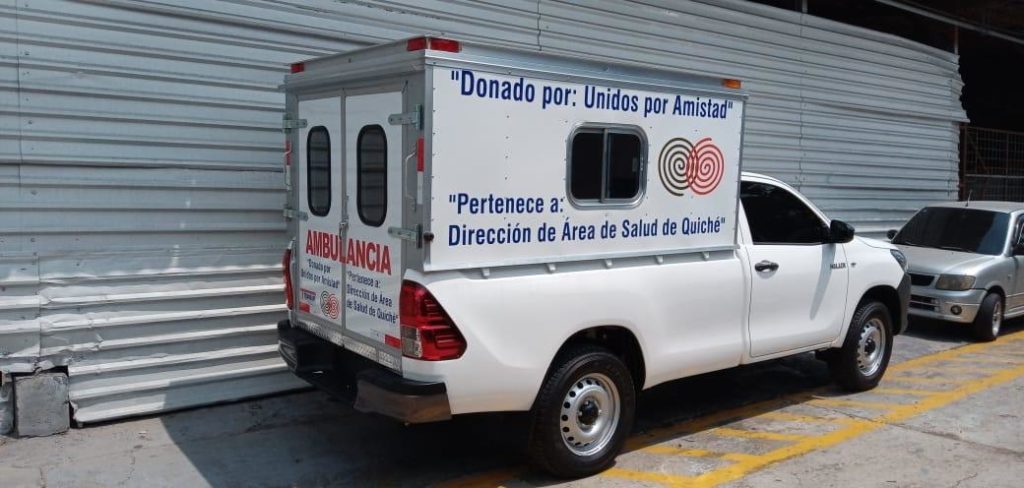 Uspantan Rural Health Department
Like most people in the highland villages of Uspantan, Guatemala, Juana lived with the dread of not knowing how she and her family would get to the hospital in case of an emergency. Her village is one of 84 remote communities, and vehicle access can be difficult on the rutted roads, especially in the rainy season. There were no ambulances available to transport the sick, injured or pregnant women who were having a difficult labor. Those needing emergency services were often carried in stretchers over trails and rivers, by village leaders.
Angel Sajbin, the director of the Uspantan Rural Health Department, is responsible for addressing the health needs of this region. During our 2019 site visit to Uspantan, Angel reached out to United by Friendship for help. In turn, UbF reached out to you, and thanks to the generosity of our donors, UbF was able to have an amazing custom-built 4-wheel drive ambulance put together in Guatemala. This ambulance can handle the rutted and narrow dirt roads that lead to many of the villages. The timing of this ambulance project unexpectedly coincided with the Covid-19 pandemic. This ambulance, along with the N-95 masks provided to health care workers and an ultrasound machine and infrared scanning thermometers provided by Corpus Christi area Rotary clubs will make a significant improvement in the health of the people in the Uspantan region communities.
Thank you for joining us in improving health care service for these remote villages.
Gallery